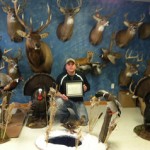 Deer  Shoulder Mounts in Saint Clair County, Michigan
Jim's Wild life Creations is your place to go for Whitetail Deer Shoulder Mounts. If Your looking for high quality and a affordable price then check out Jim's Wildlife Creations in China Township, Michigan.  Deer Mounts in Saint Clair County, Michigan
If your tired of waiting for a year for your taxidermist to get your shoulder mount done than its time to look for another. Chances are the quality level isn't there either. Jim's Wildlife Creations uses high quality eye's and we take pride in the eye and ear position on our shoulder mount work.   Gives us a call and stop by our showroom to see some of our work.
Deer  Shoulder Mounts in Saint Clair County, Michigan
Jim's Wild life Creations does all kinds of Taxidermy work from Fox, Coyote, Deer, Raccoon, Pheasant, Duck, Partridge, Elk, Turkey and much more. From Shoulder shoulder mounts to life size full body mounts. We are South East Michigans #1 Taxidermy!
Deer Shoulder Mounts in Saint Clair County, Michigan