Macomb County Michigan taxidermy quality Mounts that last a life time.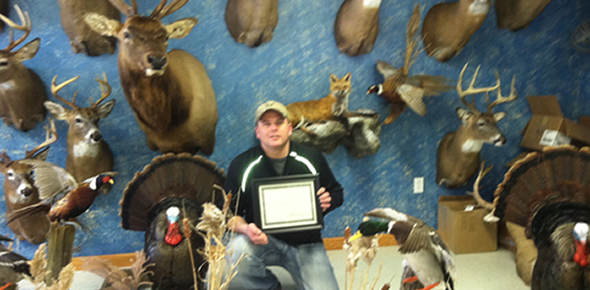 As a  avid hunter I would always get frustrated with waiting for my deer mount to be done 12-18 months after I dropped it off to the taxidermist.  Of course I was told 6-8 months turn around time for my Deer mount to be done. This  happened every time i used my taxidermist. Well after I received the last two mounts I started to realize how bad the quality of the mount was. The nose looked liked like black caulk or goo was spread all over it. The eyes had cracks, bubbles, big gaps from shrinking. They eye shape was awful. Black paint was sprayed around the eyes which is not correct. The ears were positioned straight up behind the horns. That's not even possible for a deer to rotate its ears that way.  The mounts were really bad quality with the taxidermist having 30 years of experience.
Macomb County Michigan taxidermy quality Mounts that last a life time
I started practicing on my own game to learn  the taxidermy trade.  After a while I realized my work was just as good as the taxidermist I use to have work on my mounts. The quality level wasn't there at all. I really enjoyed taxidermy but couldn't stair at my work and see the high end quality. I wanted to pursue this trade as a career path but only if I could master the trade.
I  spent weeks researching taxidermist schools and it seemed like they just wanted your money. I didn't feel comfortable spending months away from my family and big dollars and not learning much more than I already know. I heard of a guy down in Pennsylvania that was a multiple state champ that taught a handful of students that were serious about taxidermy and planning on making a career out of it.  After having many conversations with Marc Jordan I realized this was the guy I was looking for to give me that edge in taxidermy that I needed to be above the rest.
I spent the next couple of months down in Pennsylvania learning from master taxidermist Marc Jordan. After a couple of months of intense training I graduated from Pennsylvania school of taxidermy.
I  now own and operate Jim's wildlife creations Taxidermy. If your frustrated with long waits and bad quality then give Jim's   Wildlife creations a try. My work ethic ,education and high quality of work separate us from the rest.
Macomb County Michigan taxidermy quality Mounts that last a life time